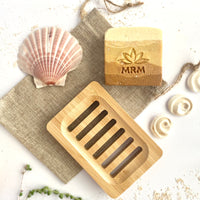 Bamboo Rectangle Soap Dish
$15.50
Our beautiful eco friendly bamboo oval soap dishes are the perfect place to keep your favourite shampoo and conditioner bars to ensure your bars stay nice and dry in between washes so that you get the most out of your bars.
Of course the dish will also hold our soap bars allowing for easy drainage to keep your bar dry.
Please note that the price is for the Soap dish only. All other products are for presentation only.