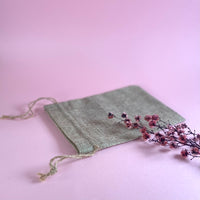 Shampoo & Conditioner Travel Bag
$11.50
Our hessian bags are your Shampoo and Conditioner bars perfect companion for where ever the journey takes you. Swimming at the beach or on holiday in Margaret River or Bali. 
Simply place the bars in the bag and then in your makeup bag.

When you get to your destination place your bars on top of the bag throughout your stay.

Then pop back the bars back in the bag for the trip home.

Wash the bag on arrival at home so that it is ready for the next getaway.
The bags are also perfect for your face & body bars !
Environmentally friendly so we are all winning !
Please note that the shampoo and conditioner bars are not included in the price.  
Size 19.5 x 14.5 cm